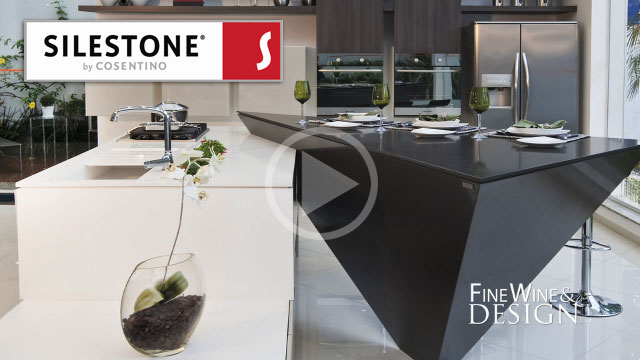 Episode 22:
Wine-Dine-Design

What do you get when you combine fabulous wine, scrumptious food, a showcase modern kitchen and an innovative home wine cellar? A perfect episode of Fine Wine and Design!
WINE~
Lawrence Dunham Vineyards, located in Cochise County at the base of the Chiricahuas near Wilcox, is where Arizona's "juice" comes full circle. They have a passion for fine wine, food and design. Curt is an amazing chef and understands the chemistry of cooking AND wine-making. Their wines pair fabulously with food, however Curt does not pair a wine with the meal but rather prepares a meal with his wine choice. The Rhone varietals such as Petite Sirah, Grenache, Syrah and Viognier were purposely chosen because the vineyards rocky soil is very similar to that of Southern France. You can taste the planning and passion in every bottle they produce. And their passion doesn't stop with what's IN their bottles. Peggy and Curt certainly have a talent for design as well. They built their dream home in Fountain Hills around their 2000 bottle wine cellar. Nestled against a mountain wall their modern racking system displays each bottle beautifully. Every bottle has a story. Each time they pull a bottle out they relive their experience with the winemaker. And it doesn't stop with the wine cellar. Their entire home is a reflection of Peggy's exquisite taste in interior design and art. This talented couple certainly is a perfect pairing!
A California brand that has become a familiar and respected concept in most households and businesses is ONEHOPE Wine. Since its inception in 2007 they have expanded into a variety of markets across the country. Through ONEHOPE Wine, wine lovers are able to enjoy a great wine and give back to a wide range of charitable organizations. Giving back is a good business! ONEHOPE Wine donates 50% of its profits to partner charities and has raised over $750,000 for these organizations. They are a unique wine brand where each varietal benefits a specific cause. ONEHOPE Wine…the thoughtful choice of MANY!
DINE~
Magnificent meals prepared in Modern Gourmet Kitchens…an inspiring, enriching, enlightening experience! Especially when your total cooking experience happens in Irvine, California's very own BSH Design Center, where homeowners, designers, builders and home chefs can bring their creative culinary and kitchen aspirations into reality. Here you will find the quality and performance that make Thermador among the most prestigious appliances in the industry. Thermador customers have never had to choose between groundbreaking engineering and modern design. For over 125 years they have designed products with both functionality and aesthetics in mind. Truly a cultivating culinary experience!
Silestone by Cosentino
DESIGN~
Through superior strength, incredible beauty and an unparallelled distribution network, Silestone is rapidly becoming the choice in our modern kitchen designs. Cosentino Group is the world's major producer of quartz surfaces. Cosentino offers us luxurious and affordable lines of unique surfacing materials to use in our countertops, flooring, walls and more. They bring homeowners an endless variation of beauty! Their showrooms are design to support, promote and educate architects and designers. They offer an interactive environment, which enables us to view the latest products and upcoming designer trends. Round that out with a talented, passionate, highly educated team, Cosentino is THE design experience!
When fine wines meet functional and fabulous dining and are set in extraordinary designed living spaces…it just all comes together! WINE~DINE~DESIGN orchestrate together perfectly. Although each can stand alone, when brought together we experience a true symphony of lifestyle.
Cheers!
Denise Teichert
A SPECIAL THANKS TO
Lawrence Dunham Vineyards
ONEHOPE Wines
BSH Appliances
Cosentino Group
Nicole's Kitchen