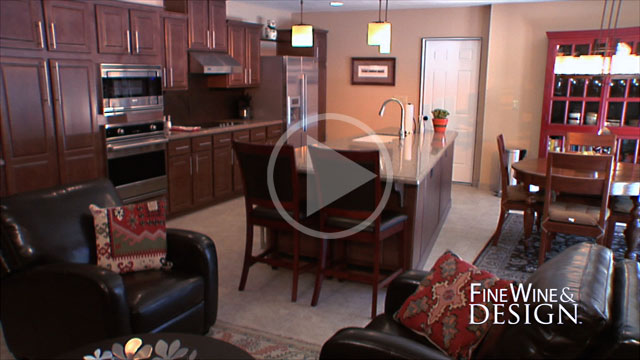 Episode 9:
Bold and Beautiful

Article by:
Keith Zollman | Designer
NY Design Build
Most days, I think we are happy to be where we are. But one day, somehow, an idea creeps in that things could be better: more artful, more considered, more wonderful. What begins as a mere inkling soon grows into an overwhelming collage of "wouldn't it be great ifs…." It's then that an improvement idea takes on enough inertia to require the right designer to guide and shape the many possibilities into one, excellent whole.
It's a pertinent requirement that the clients recognized and met early on when they hired Brian Puglisi and me along with NY Design Build to bring their ideas to life. Great appreciators of arts and crafts, and with an epicurean joie de vivre, Dave and Kara looked around their home and discovered the best opportunity to answer the needs of their lifestyle. By enclosing a porch and removing some walls, they could create a great new space for cooking, dining, entertaining, and relaxing that simply wasn't possible in the fractured and aging layout of their house.
Home 1
The dark and compressed original kitchen was greatly expanded with a fresh, open layout looking onto the gathering areas and out to the backyard and pool. A pair of generous French doors provides ample daylight for the entire space and can be opened to the backyard terrace for an elegant indoor-outdoor transition. Matched appliances and a carefully considered color and texture palette speak of the easy comfort of gracious Southwest living. Custom steel details at the door trim, backsplash, and fireplace add a modern ruggedness to an otherwise refined, transitional aesthetic.
Like the illuminated pages of an ancient antiphonal, each component of the design is nuanced and specific, reflecting the many hands that contributed to its creation. Every detail carries with it an intrinsic story for the homeowners to cherish and share throughout the years. The final product is more than a lovely kitchen remodel; it is a memory of the homeowners, the designer, and the craftsmen encoded into the very walls themselves.
______________________________________________________________________________________________
Article by:
Denise Teichert | HOST Fine Wine and Design
Teichert Design Group
Many of us would love to have a pro-quality kitchen in our homes but what are the "pro's" cooking on in their own homes? How DO real chefs cook at home? Do they have commercial appliances and fancy gadgets? No…they have kitchens that are well used…just like ours.
I had the great privilege of working side by side with local celebrity chef Doug Brochu of Creative Hands Cuisine in his home kitchen. What I found surprising is that he does not have a million fancy tools or any more pots and pans than you and I have. And nothing is unusually orderly. His kitchen reflects the same chaos one would expect of a family of 2 working parents, an energetic 2 year old and 3 personality plus dogs. At home Chef Doug celebrates life each day with family, friends, clients and of course good food and wine. It is not a large kitchen however it certainly is great for cooking and entertaining. And although there is not a ton of counter space, the kitchen island offers generous room for a workspace and houses a deep spacious sink to help with the clean up or just hide the creative aftermath.
Home 2
Adding amazing granite and a metal backsplash full of personality like our Chef himself brought in that personal touch, but it was the appliance upgrades that were an important factor when renovating this kitchen. Their new appliances have helped make life easier and gave them the affordable luxury statement they were after, which is important knowing your home kitchen design is also in the public eye.
This kitchen still retains its primary function as the room where meals are creatively created and where people come to gather. It allows for both casual entertaining with family and friends and formal presentations to potential clients. It is superbly equipped to meet a professional chefs needs and a mother's desire to feed her family effortlessly. Throw in efficient and practical and you have a perfect kitchen suited for anyone, professional or not.
Touring a celebrity chef's kitchen is always a special treat. Enjoying a scrumptious meal that was almost too pretty to eat was equally enjoyable. So delicious, perfectly prepared, professionally presented…I almost forgot we were at "home".
Copyright 2010, Fine Wine & Design
A SPECIAL THANKS TO:
NY Design Build
Creative Hands Cuisine
SunWest Appliance Distributing