FIRECRACKER CORN SALAD!

---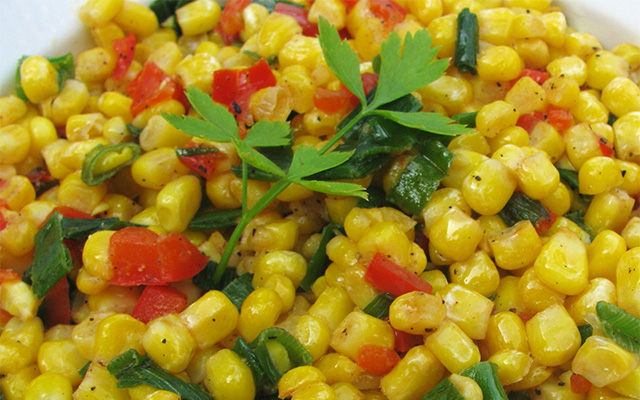 Yield 1 ½ Quarts or 12- ½ cup servings.
Ingredients:
10 ears Roasted corn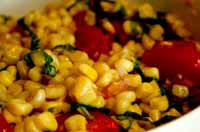 1 Red Bell Pepper ¼ inch dice
1 Green Bell Pepper ¼ inch dice
1 Medium Red Onion ¼ inch dice
1 Roasted Poblano Chile ¼ inch dice
1 Bunch Scallion cut ¼ inch
Dressing
¼ cup Lime Juice
¾ cup corn oil
2 cloves of garlic
1 Tablespoon Chile Powder
1-2 Teaspoons of Cayenne Pepper
2-3 Tablespoons of Sugar
Directions:
1. Soak the cornhusk and all in cold water for half an hour, don't peel or shuck the corn.
2. Fire up the grill to a medium setting (about 350 degrees). Lightly oil the Pablano Chile with oil and gently roast on the grill while it is pre heating. Remove the chile when it is blistered all over but not burned.
3. Place the soaked corn on the grill carefully (love the corn), cover the grill and let the corn roast slowly turning occasionally as the husk browns, approximately 30-45 minutes. If the husk starts to burn lower the heat and spray with water to cool it down.
4. Let the corn cool, shuck it and carefully cut the corn from the cob.
5. Mix in the rest of the ingredients for the salad.
Dressing
1. Mix all of the ingredients for the dressing in a blender the toss with the salad. Season with salt and pepper.
2. EAT IT ALL UP!
CHEF'S NOTES
• The amount of spice that you use is up to you, if you like it stronger just add more.
• The Pablano Chile can be substituted with Jalapeno (hotter) or Anaheim Chile (milder)
• All Dressings taste better the next day, so if you can make the dressing in advance.
Pairs Well With:

Sauvignon Blanc
For more culinary inspiration KEYWORD "recipes", a specific ingredient or click here.